Back on the previous page
ADVANTAGES OF THE PLDD

- For its execution, local anesthesia is used (not to be confused with spinal anesthesia in which the patient is still awake but the entire lower part of the body is anesthetized); the advantage of local anesthesia is evident, for example, in being able to treat patients suffering from collateral diseases that may represent an increase in risks under general or spinal anesthesia.

- It can be used, as well as in a large group of herniated discs (but not all and it is good to emphasize), also for disc protrusions (the latter represent the small but sometimes very painful herniated discs) in which usually the "classic" surgical indication "or endoscopic should not be placed. They are not responding to several conservative therapies (pharmacological and / or physical that should always be undertaken as an initial approach) and the patient does not find solutions to his problem, which affects daily life and work.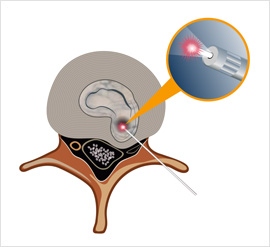 - PLDD can be used in a certain percentage of post-surgical or post-endoscopic recurrent hernias (and they are not statistically few); in these cases the success rates are statistically lower (from 85% to 65-70%).

- PLDD allows a relatively faster recovery of the patient's daily and working activities (usually within 3 - 4 weeks) with consequent notable positive social - economic implications; in about 70% of cases, in fact, hernias and disc protrusions affect the population in full employment.

- The no needs for surgical incisions (using only a thin needle that crosses the skin, the subcutis and the muscles and reaches, under radiological control, the center of the disc to be treated called " the nucleus pulposus "), detachment of the muscles from the bones of the vertebral laminae, removal of bone and ligaments, determines the absence of problems as typical for "traditional" surgery such as the formation of scars around the nerve roots (in essence it is deep scars that can incorporate and compress the nerve roots compressed by the same hernias ), chronic pain due to muscle damage and, sometimes, also instability of the spine with the need perhaps of subsequent rather complex surgical re - operations.